A Tribute to Coldplay- Candlelight concert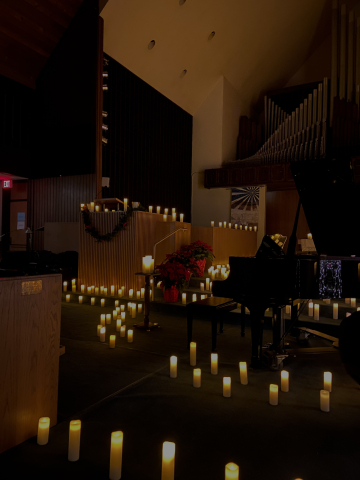 "Amazing! I've never experienced anything like this and I had such a great time. The music, ambiance, and everything was so beautiful. "- Vanessa, candlelight concert  2022
A very unique piano concert accompanied by candlelight - Which welcomed us on Saturday at the Kerrisdale Presbyterian Church at the FEVER Candlelight concert.
A must-concert for all of those, who love piano music and want to enjoy classic music in a candlelight shine.
It was such a special moment to step inside the church for the first time and see hundreds of candles bringing some light in the beautiful church.
Their light sucked me in directly and made me feel cozy and special.
We listened to Austin Nash Park, an international pianist and singer-songwriter from Vancouver,BC. He started playing the piano when he was five and kept playing ever since.
By living in Japan, England and Canada he traveled the world and made a name for himself all around the globe.
He is such a talented pianist and when he started playing his first note, it beguiled me. The concert was without singing, but the piano melody spoke for itself.
Yellow, the Scientist, Paradies and Clocks were some of the many Coldplay songs Park enchanted the audience with.
I experienced every kind of emotion during the concert, from tears to joy to laugher. So if you want  to be beguilded and emotionally touched by the Coldplay piano songs, too, go listen to the FEVER candlelight concert.
They're not only presenting Coldplay based concerts but playing Hans Zimmer, Fleetwood Mac , Taylor Swift, Louis Amstrong and Joe Hisaishi as well!
And if you are not from Vancouver; no problem! FEVER presents the candlelight concert in many different cities such as Berlin, Amsterdam , Madrid, New York and many more!
 Just check out their website feverup.com for your city! (You should be at least 8 years old to join and if you're under 16, you must be accompanied by an adult (19+) )
Posted on:

12 December 2022

By:

Vivienne