Swans and Xiu Xiu electrify Venue!
If there's a word that could sum up this show I would have to say it would be intensity!  There was definitely a crowd and a buzz noise outside Venue on Granville Street as the number of people grew and grew on this night.  The doors did not open promptly but the casual delay seemed to allow things to germinate out front, no doubt.  I was pleasantly pleased to see the onlookers inside building and diversifying for this show.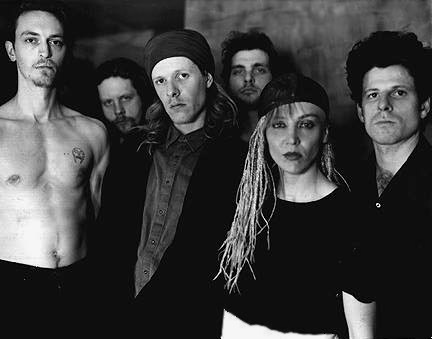 Early on, road crew set up various instrumentation and spread out an assortment of gear, so it seemed rather interesting that Xiu Xiu vocalist and front man Jamie Stewart merely sauntered out and took his place at the stage front before a preoccupied group but disenfranchised packed house.  
He could have easily fit in among us, as we barely take notice.  I suppose many were waiting for the actual four-piece from San Jose CA to take shape and fill out the stage.  Yet Stewart was incredibly animated in his performance and he seemed to pay attention to the details and atmosphere of the venue.  
Belting out tracks, I was amazed at the scope and depth of his set which consisted of: "DangerousYou Shouldn't Be Here" and "Rose of Sharon" from 2005's La Foret. "Hi" and "I Luv Abortion" from this year's full length release: Always. "Wig Master" from The Air Force (2006), "Black Keyboard" from 2008's Women as Lovers and "Falkland Rd." from 2010's Dear God, I Hate Myself .  Surprisingly an early one from 2002 made the cut: "Hives Hives" from Knife Play. Even more unexpected were the two covers during the set. Notably Tracy Chapman's "Fast Car" which appears as the 9th track on Xiu Xiu's 2003 album A Promise.  As well as The Smiths "I Won't Share You".
Swans took the stage around 10:45 and were casual and composed but seemed to warm to the evening like a rusty squeezebox that eventually found its rhythm.  Michael Gira seemed to be encapsulated and even disgruntled at times with his fellow bandmates.  He stood on an angle at centre stage that reminded me more of an orchestra conductor with a music stand and sheet music on hand.  
He belted and gave direction to all members and at times seemed to be constantly searching for perfection from both himself and his colleagues with each passing bar.  When all was said and done, Swans set consisted of: "To Be Kind", "She Loves Us", "Nathalie", "The Seer" the title cut and over 30 minute opus from 2010's The Seer in addition to "The Apostate" and "Avatar" from that record.
The night closed for me with ringing eardrums and the drone of sounds that left me melancholic.  At the same time I was fully and completely transported to another place and time.  Perhaps that's what Swans and Stewart had intended for those of us in attendance on this wonderful night of music.
Posted on:

12 April 2016

By:

Administrator

Author: Scott White