Rüfüs Du So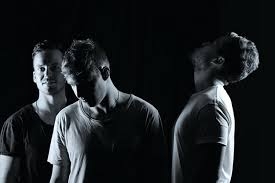 I was excited to hear that Australian alternative dance trio Rüfüs du Sol (known simply as Rüfüs back in their home country) was coming to Vancouver while still in the process of writing their follow-up album to their fantastic debut album Atlas. It was at the Venue Nightclub; while I'm not usually one to frequent nightclubs, especially on a weeknight, I still love to dance myself away to some quality live electronic music shows.
As I walked into Venue, I heard local electronic outfit Wmnstudies, one of the opening acts for Rüfüs du Sol, pumping up the dancefloor. I grabbed myself a drink and sat down to take in the steady beats, including a nice house remix of the Weeknd's hit "Can't Feel My Face". Some electronic dance music fans joined me later on, who turned out to be SFU alumni from before my time. We chatted about our university years, being a fellow alumna myself, as well as past shows we had attended as Wmnstudies wrapped up their set and pass the DJ booth over to Cassian, the second opening act and a fellow Australian touring with Rüfüs du Sol.
Cassian brought us his brand of well-produced house tunes, setting the tone for the headliner's show. I felt myself moving in my seat to the beats as the Rüfüs du Sol fans and I talked, almost wanting to get up and dance before the dancefloor got too crowded for the main act. By this time, however, Venue had gotten so packed that by the time my new friends and I got up to catch Rufus's set after Cassian's somewhat abrupt set conclusion, there was hardly any room to actually dance in. We still managed to squeeze through the crowd as Caribou's tracks filled the gap between Cassian's and Rüfüs's set. Luckily, for the Rüfüs fans, it was a very short wait before the headliner to take the stage.
Rüfüs du Sol is clearly a live electronic act, complete with a singer/guitarist, keyboardist and drummer. The track that shares its name with the tour name, 'You Were Right', the first single off Bloom, the album they are currently making, set to be released sometime early next year. The live rendition impressed many, and was clearly the audience highlight. The high-pitched synths added a biting edge to the otherwise uplifting track which moved the audience's spirits along with their bodies. The trio performed much of the track list from Atlas, as well as an unreleased track for the new album thrown into the mix. My personal highlight of the main set was their performance of "Tonight". There's something about the percussive choppy synth riff that immediately snagged my ears as the track opened. I was glad to hear that the distinctive timbre for that track from the studio version wasn't lost in the live performance.
The main set felt short, but Rüfüs du Sol was very eager to return to the stage for an encore. "Vancouver, you're f—king great to us," they say something along those lines. "You guys are awesome." The crowd cheered in response, before they closed the show with two more songs, one of which was "Like an Animal", their newest official single and my favourite song by the band, and a highlight in the overall performance. I leave the show very satisfied to hear some quality alternative house music in a friendly nightclub setting, and I'm now super excited for their new album next year!
Posted on:

12 April 2016

By:

Administrator

Author: Eriko Furukawa