Quadrophenia, Revisited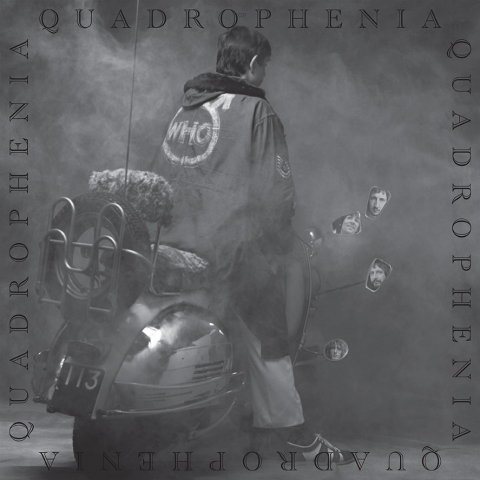 Sometime last fall, as I crunched through a myriad of freshly fallen leaves, I heard a high pitched squeal in the distance. As I turned my head, about a half dozen vintage Vespa scooters, flew past me. In the blur, I vaguely processed brilliant chrome, a magnificent union jack skull cap and, as the new age Mods faded in the distance, a green military jacket with a sizeable "Who" patch on the back. As I continued my stroll, I immediately thought of The Who's 1973 classic record Quadrophenia. Being in close proximity to my local vinyl shop – Hooked on Phono- I decided to pop in and see what hidden treasures were lurking. I ended up with an original US pressing of The Who's conceptual masterpiece, just as planned.
This outstanding double album, written by guitarist Pete Townshend, explores the trials and tribulations of a London Mod named Jimmy and his deep rooted mental health issues. The Mod movement - a youth subculture of the early 1960's- focused on fashion and music. These stylish young Londoners were coined modernists for their affinity to modern jazz. Elements of this subculture also included street fights (with their arch rivals "The Rockers"), pill popping and all-night dance halls.
In a more or less calculated move, The Who championed The Mod's cause and helped to define their fashion sense in the early days. The Who were pictured prominently in tailored union jack blazers and stylish T-shirts with red and blue targets stamped on the chest. The word "Quadrophenia" was devised by Townshend, "quadro" comes from quadrophonic (the recording and reproduction of sound over four different transmission channels) and "phenia" is pulled from schizophrenia (a group of severe mental disorders characterized by reality distortions). In the narrative of Quadrophenia, Jimmy hosts four different personalities, each loosely based on the four original members of The Who.
The band is definitely in their glorious prime on this 1973 LP. Roger Daltrey's vocals are raw and resilient, Pete Townshend is at his guitar-hero best, John Entwistle's exploratory thick bass lines are legendary and Keith Moon creates a thunderous commotion behind the kit. It was during this time, that Daltry, when interviewed years later to comment on Moon in 1973, famously replied he was "a little drunker than he was in 1972."
The story of Quadrophenia was eventually made into a motion picture (1979), with the album echoing the tale in audio form. Each track seamlessly floats into the other, taking us on a dark journey of alienation, desperation and then, discovery. Contained within the album are classic tunes like "The Real Me", "I'm One" and the anthemic "Love, Reign O'er Me", with each track standing on its own or enhanced within the context of the album. 
Townshend has confided that Quadrophenia was truly the last great Who effort and the album he is most proud of, and that he "wanted everyone who listened to the album to find themselves and their own story in it, including each member of the band." The musicianship has each player at the top of their game and the imagery of sea and sand contrasts the otherwise bleak tale of a lost soul. Townshend expands "…It's just about Jimmy, and…that he realizes he's been looking outside himself, and what he has to do now is try to ask a question internally."
Originally as a touring mechanism, Quadrophenia never really hit the mark but over the last 46 years, the album has resonated and aged quite well. Commercially it reached the highest point of any Who album coming in at number 2 on the Billboard Charts. The two surviving members of The Who (Townshend and Daltrey) have toured Quadrophenia several times in recent years to great success.
Determined not to stagnate The Who are "Moving On!" with their first studio album in 13 years and a North American Symphonic tour in 2019, hitting Vancouver October 21 at Rogers Arena. Daltrey once sang "hope I die before I get old," but apparently everything old is new again, just with a touch more grey and a few more wrinkles. The Who are sure to roll out at least a few cuts from their classic 1973 rock opera and it will likely be my final (and fourth) time seeing the band live, with each performance as distinctive as one of Jimmy's personalities. Presumably on that dark, dank autumn evening, there will quite possibly be, a gang of crusty Mods on tricked out Vespas, roaming the streets of Vancouver- just like they had done in London- so many years ago.
Posted on:

12 February 2019

By:

arts and entert...