No Shame in Post-Punk Revival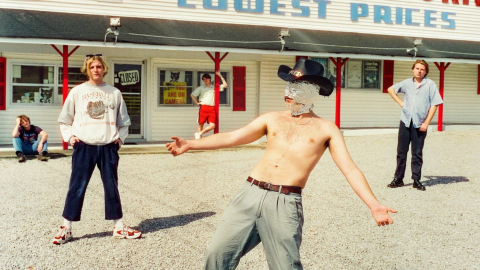 Post-Punk revivalists Shame released their third album, Food for Worms, in February this year through Dead Oceans records, home to other post-rock and post-punk artists such as Wednesday and Slowdive. Since then, they have been debuting tracks such as the erratic and mosh-ready 'Six Pack' and the anthemic pub ballad 'Adderall' live across Europe and most recently, North America.
The jumpy and dapper South Londoners recently graced the Hollywood Theatre in Kitsilano with the closing show of their North American tour. However, no energy was spared in delivering a whopping denouement to their third album's tour cycle.
The cliché advice of 'perform every show as if it is your last' comes immediately to mind as I watch the opening number of Shame's performance, 'Fingers of Steel'. Anticipating the end of the first track, frontman Charlie Steen strips the buttons of his t-shirt in the last bridge and then launches himself from the stage into the crowd, as though this was all he came to do. Members of the audience imitate Steen by plunging themselves into the crowd through the groovy and jittery 'Alibis', and the classic hard-rock imbued 'Tasteless' from their debut LP, seeking no refuge from the distorted chaos of the post-punker's chic mania.
Steen was not alone in his relentless energy however, with bassist Josh Finerty - evidently looking to transcend stereotypes of his position - sprinting from one end of the stage to another; drummer Charlie Forbes flails aggressively in perfect coordination to drive the agitated rhythms that fuel the infectious chaos; and finally, guitarists Eddie Green and Sean Coyle-Smith hold the fort as two pillars on the left and right of the stage, flawlessly panning their coordinated guitar parts to draw together melodies and harmonies fit for a choir of aggravation.
These manically endearing rockers have not just contributed to the revival of the post-punk genre, but in the process have created something new: combing punk's reckless spirit with the charm of legends before them such as Talking Heads and Sonic Youth, sporting polo shirts and blazer jackets, they evoke a debonair punk: a punk which takes care of itself whilst still managing to vent and inspire. Shame are a band to add to your running or work out playlists in anticipation of an opportunity to release all that pent up chaos in a refreshing and charming medium when they inevitably return with LP IV.
Introductory Song Suggestions: Fingers of Steel, Alibis, Tasteless, Water in the Well and Adderall.
Posted on:

18 October 2023

By:

Nathan Collins