Misfits
On November 10th, CJSF volunteer Melissa Frustaci was able to attend and review the Misfits who played to a sold-out crowd at Venue in promotion of their new album Land of the Dead, this is what she says...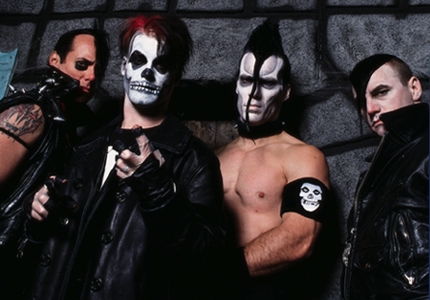 As a long-time Misfits fan, I couldn't miss the opportunity to see such a legendary American horror-punk band play a live concert in my own backyard. The Misfits played a sold-out show at Venue, formerly the Plaza Club, on November 10, to promote their new album, Land of the Dead.
I had been under the impression that guitarist, Doyle Wolfgang Von Frankenstein, who never says a word to interviewers (how cool is that?) would be performing with the band. A few days before the show, however, I was pleasantly surprised to hear that Dez Cadena, former Black Flag member, had stepped up to fill his place.
I won't describe the opening band, Stand Down, since I missed them entirely. Instead I will head straight to the good stuff. The Misfits opened with "Halloween," with Jerry Only (sporting his trade-mark 'devil lock') on bass and vocals. I had heard this song from the back of the venue while I was desperately trying to make my way through the wall of people trying to check their coats. They moved into song after song, keeping the pace at lightning speed and forcing the audience to keep up. I have never heard "Attitude" sped up so much in my life. The audience was treated to the sounds of a few Black Flag songs, such as "Jealous Again" and the classic "Rise Above." The band caused the sea of people to go wild with songs like "Dig up her Bones," "American Nightmare," and "Helena." I tell you, it's a blast singing along to a heartfelt song such as "Saturday Night," with a packed room of 'fiends' enjoying themselves.
A few songs, the names of which escape me, came from their newly released album, Land of the Dead. Although there were tons of classics I would have killed to have heard ("Bullet," "Where Eagles Dare," "Last Caress"), I was impressed with the selection the band had chosen. I was quite happy that they chose to play older songs, rather than push their new stuff on the audience. My favourite part of the night would have to be when the band played their final song of their encore, "We Are 138." Everyone, including myself, went nuts.
Jerry Only, the generous attention whore that he is, hung around while the rest of the band quit the stage, to taunt and tease the audience. He graciously signed autographs and shook hands. I joined the rest of the crowd, lapping up every minute of it, and for my patience, received a full-on handshake. Success!
Sadly, my secret (and extremely far-fetched) hope of original vocalist, Glenn Danzig, showing up on stage did not come to fruition. But that's ok, because all in all, it was a damn good show.
Posted on:

12 April 2016

By:

Administrator

Author: Melissa Frustaci