The Lovely Feathers with The Racoons
Yes, it was a blistering thirty-eight degrees yesterday, and no, the Railway Club most certainly did not have air conditioning. But did that stop The Lovely Feathers from ripping off their shirts, sweating profusely, and rocking the socks off every devoted fan that stuck around and endured the heat for the chance to dance like seizing madmen? Not one freaking bit.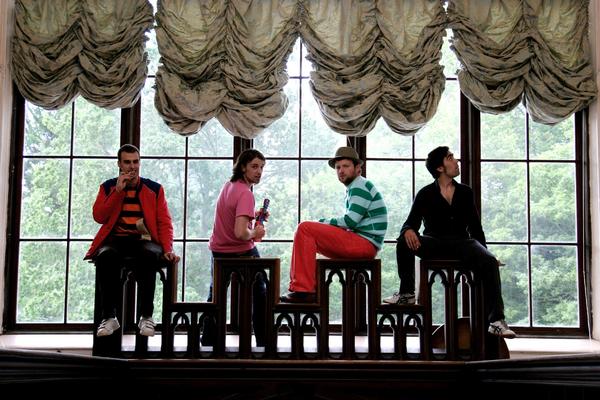 As the Railway started to empty out after The Racoons had finished their opening set, the indie pop-rock band from Montreal , The Lovely Feathers nonchalantly took stage. Undeterred by the thinning crowd, the band began their set with one of their oldest songs, "Wrong Choice" and used the small crowd as a chance to get intimate with their fans. Going into a new, mellow song, the lead singer, Mark Kupfert promised that after this "soft one" they were going to "get a little crazy." With that, the band put forth all of their energy into "Rome is in the Valley," making it impossible for the crowd not to dance. And true to their word, things were definitely crazy. There were girls clapping and yelling, "I love you!" and taking their shirts off as the band energetically and mixed their old songs with new songs off of their recently-released album "Fantasy of the Lot".
As the show progressed, the band, with their hot, sweaty, shirtless bodies, violated me with their unbearably catchy riffs and upbeat tunes. "Lowiza," a hit off of "Fantasy of the Lot", drew large cheers. "Photocorners" drew clap-alongs and the very catchy "Long Walks" wreaked havoc on the dance floor. The band ended with a perfectly extended version of "Birthday Cake," and said good night.  However the non-stop cheers from the crowd, made the band unable to leave the stage without an encore. In good spirits, the band broke into the well received "Mannequin" and "Fudgicle," as they finished their energy-draining-in-the-most-delightful-way-possible show.
Shirts aside, the band joked about the temperature, but impressively and admirably didn't let the ridiculous heat stop them from pleasing their fans and putting on a great show. Leaving the heat-trapping venue, sweat-drenched and gleaming, I found myself humming the band's new catchy tunes and praying like mad that they would hop on the next ferry out of town as the Lovely Feathers have heated up this already too-hot city.
Posted on:

12 April 2016

By:

Administrator

Author: Erin Kurk