Joel Plaskett/Steve Earl
CJSF volunteer Gerilee McBride crams into a packed Orpheum to reveal in the musings of Joel Plaskett and Steve Earl, this is what she had to say....
Getting jostled from behind by a drunk lady slurring, "Are yooou heeeerre to seeee Steve Earle?" was not the most auspicious start to what ended up being an incredible evening of acoustic music from both Joel Plaskett who opened, and Steve Earle who headlined. Although this concert was part of the Cultural Olympiad I would like to think that these musicians would have come to Vancouver regardless, especially since both have recently released albums: Plaskett's Three and Earle's Townes.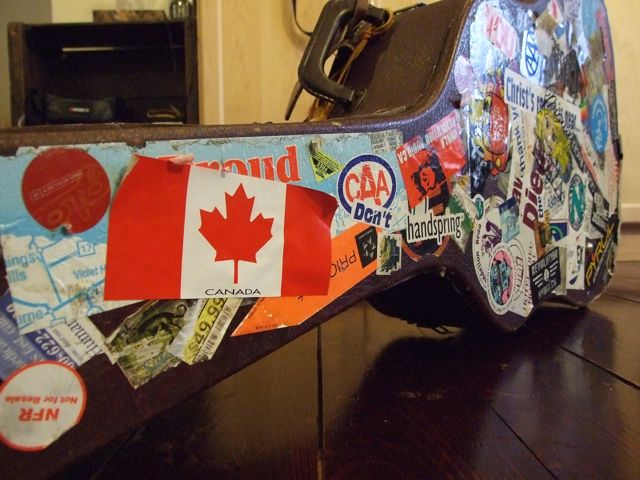 Arriving five minutes late of the 8pm door, I could already hear Plaskett on the Orpheum's lobby monitors. Clearly these Olympiad people mean business with an extremely prompt start. Almost running now, my companion (let's call her "A") and I were escorted to our ground floor seats by the light of the usher's flashlight. I could tell this was a serious concert with a capital "c". 
 
Not a stranger to either musician I must admit it had been years since I listened to any Steve Earle (circa El Corazon) but only days since my iPod shuffled on over to Plaskett's Ashtray Rock. I reminded A (who, by the way, had no idea who either musician was and has clearly been living under a rock for many years) that we had recently seen Plaskett in a cameo part in the movie One Week – he plays a busker/musician. She didn't remember. 
 

On this night, Plaskett was resplendent in a black Western shirt and jeans mid-song with his dad Bill when we finally sat down. With one foot thumping, Plaskett kept time while his voice and guitar rang out with a clarity and harmoniousness that gave tribute to his talent as a singer-musician and to the acoustic space of the Orpheum. In between playing songs from Three, Plaskett would talk about his new truck, joke about selling us some snow from Nova Scotia, and urge us to buy his new album. It was all said in a jovial manner that would make any hater into an instant Plaskett lover. And this crowd loved Joel Plaskett. We cheered, applauded and gave him two standing ovations when all was through.
 
 
Since my earlier encounter with the drunken Steve Earle fan I was wondering if the Plaskett fans would disperse at intermission leaving a half-empty Orpheum, but my concern was unfounded when the crowd came pouring back in as Earle took to the stage. Earle, in a red and white plaid shirt and blue jeans and rocking a pair of what was probably a set of progressive bi-focals, walked on the stage and immediately launched into song. Like Plaskett's, Earle's was an all-acoustic set. 
 
Earle spoke to us only after he had finished his second song by which time the audience was itching to laugh at this jokes and commiserate with some of the tough times he's gone through, and he's gone through some tough times (i.e. drug addiction and jail). His set went from rollicking to relentless and only settled down when he talked to us about Townes Van Zandt, his mentor and friend, and whose songs his new album is made up of. 
 
Where Plaskett's music was toe tapping and head clicking, Earle's was hypnotic and persistent and brings to mind the desert and drinking, and you can feel it pouring into you it's so full.
Full of hard living as he conveyed to the audience that he turned fifty-five last week and that that meant fifteen years of sobriety.  Full of hard loving as he's been married seven times; twice to the same woman! It's also completely full of generosity because Earle plays to his audience with gratitude, stating at least twice how appreciative he is of his fans and our continued enthusiasm for his music. With Earle I really feel that he means it honestly and isn't just sending platitudes into the ether to garner more album sales. 
 
Before the night was over a dancing couple (a big bearded, cowboy hat-wearing man with his long-skirted lady) would do-si-do down the aisle to Earle's bluegrass beat and a loud clapper would be relentless in his loud clapping in praise of what was obviously hero-worship. It was a fun night, not the least of which was hearing Earle sing "Mr. Mudd & Mr. Gold": 
 
You feel like Mudd, you'll end up Gold 
You feel like lost, you'll end up found 
So amigos, lay those raises down 
 
And yeah, he did end with "Copperhead Road", but it was a song that I now understand as a folk song instead of the rock/country version I remember from Much Music in the '80s so I can forgive him this once, because hey, the loud clapper clearly loved it.
Posted on:

12 April 2016

By:

Administrator

Author: Gerilee McBride