Joel Plaskett and Bill Plaskett at the Vogue Theatre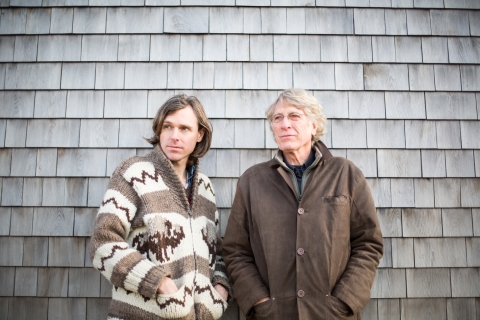 Every once in a while, I'll hear a song in a totally unexpected environment that immediately grasps my full attention, and demands that I discover where it came from, so that I can listen to everything else ever created by that artist. This was how I came to love Joel Plaskett. It was Summer 2007. I was moseying around a Foot Locker in the sweaty depths of the Eaton Centre in Toronto, looking for a fresh pair of kicks, when I heard "Fashionable People" filling up the room with its peppy, infectious verses and hooks. Something about that song just hooked me and refused to let me go. I had to know who made this music; but this was during the now-unfathomable time of a pre-Shazam, pre-Soundhound, and pre-smartphone-ubiquity society. So I had to remember the lyrics, and get to a computer to Google it up ASAP.
I didn't know it at the time, but this would mark the beginning of a lifelong love for one of Canada's most humble, genuine, and prolific musical talents, and Joel Plaskett couldn't be any more deserving of such acclaim.
Plaskett's latest musical endeavour involves he and his father Bill—an accomplished musician in his own right—collaborating on a disc titled Solidarity, which combines Bill's traditional folk background and Joel's more modern rock sensibilities. This companionship played out wonderfully at their show at the Vogue Theatre. Joel was clearly the main draw, pulling out both familiar and deep cuts in bunches—including an unplugged version of "Fashionable People", which got the crowd singing along in disharmonic hilarity—much to the delight of the audience. But he also knew when to yield to his father's steady guitar playing and vocal consistency, and some of the highlights of the night featured Bill's folk tunes about British prisoners and workers unions—not something one is typically accustomed to hearing at a Joel Plaskett gig.
I couldn't help but get the sense that Joel decided to embark on this project with his dad simply just so they could spend quality time together. Despite having the energy to tour the country in support of a new LP, at age 71, Bill is no spring chicken, and Joel has been a very busy man over the past 20+ years, constantly touring and putting out new music at an almost annual clip. This kind of schedule can be taxing on any relationship. Of course, this isn't the first time the two have toured together—Bill joined the troupe back in 2009 during Joel's "Three" circuit—but with Joel himself now in his forties, quality time with family surely seems that much more important. On stage, their chemistry was earnest, their happiness apparent, and their friendship obvious—just the simple sweetness of a father and son playing music together.
Posted on:

10 July 2017

By:

arts and entert...