HARD DRUGS
                The audience at The Biltmore this past Saturday night had a familial air. With the mellow, haunting roots musician Johnny Wakeham opening, and Hard Drugs playing their first gig in years, the majority of the crowd seemed to be a congenial combination old friends and diehard fans.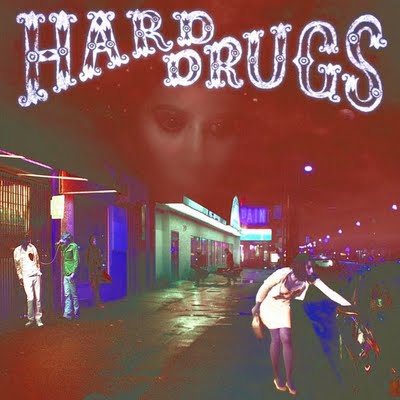 "My strings have rust on them, no joke," Wakeham quipped. Although the impressively long-haired Wakeham was alone on stage with his guitar, his sweetly brooding voice successfully filled the venue and captivated the audience.
Following Wakeham were Weathered Pines, who boast the endearing vocals of Marissa Johnson and Vancougar's CC Rose on keyboards. Although the talented group of Vancouver musicians played well together, the best part of their set was when Johnson's thick-rimmed glasses unintentionally fell off her face, and the group's music veered out of traditional roots mold and delved into experimental rock territory.
             "We're missing a band member," founding member Jeffrey Lee commented as his headlining act took to the stage. Hard Drugs made their mark on Vancouver back in 2009, with the release of the 'rock opera' album of the same name. The album itself is a tale of drug abuse, love, and prostitution on the city's east side set to the seemingly unlikely operatic roots conventions.
As they were running behind schedule for the Biltmore's early show, Hard Drugs were missing backup vocalist/guitarist/fiddle player Colin McKill. Colin darted across the venue and made his way onstage, fiddle in hand.
           "The next few songs will be from a digital album coming out in a few months…it's pretty good, you should check it out," Lee commended the new material to the audience.
I wanna move to the country…
          The seven piece band whirled through their set, as Lee's vocals mixed with his wife and drummer/vocalist Jenni Lee Nelson. Lee Nelson's whose voice was as captivating as her vintage fringe dress, and the audience started bobbing along during the 'Summertime Blues' single, a song featured on a 7 inch split record the group shared with fellow Vancouverites 'Lightning Dust.' The set continued to build in energy with another new song 'Iowa,' which featured Hard Drugs signature male/female harmonies and Lee's intricate guitar playing.
            "I don't have no time for jokes, so we'll keep playing." At 10:30, Hard Drugs were already at the halfway point of their set. They descended into a new song, where Lee's vocals suddenly sounded like Mick Jagger's. They wound down the set with two songs from their first album – 'To Get Drunk & Picked Up By Cops" and the fantastically tongue in cheek "She's Hot, I'm Married." Their next song was so new, Lee Nelson complained "I don't know how to play it!" before the band launched into a freshly recorded, Dylanesque ballad. Although it was only 2 minutes to 11, the audience demanded an encore, and Lee summoned Marissa Johnson back on stage to provide backup vocals for oldie hit 'Dedicated to the One I Love.'
           Hard Drugs has always been steeped in traditional music, but if the Rolling Stones/Dylan style of their new material are any indication, listeners can expect their upcoming material to pay more of an homage to '60s rock 'n roll. That being said, the group continues to provide fun re-interpretations of older music and classic themes, and should be a favourite amongst Vancouver's music junkies for years to come.
Posted on:

12 April 2016

By:

Administrator

Author: Amanda Mcculley