Fond of Tigers with Mats Gustafsson & Secret Mommy Quartet
Kate Lerman, reviewer and photographer, attends and documents the Fond of Tigers show at the Biltmore.
Roll call time: Vancouver's Fond of Tigers is made up of Stephen Lyons (guitar), Jesse Zubot (violin), Shanto Bhattacharya (bass), Morgan McDonald (keyboards), JP Carter (trumpet), Skye Brooks (drums), and Dan Gaucher (drums).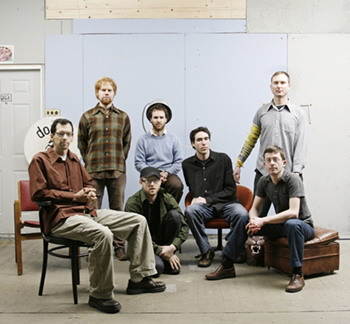 Years of Jumbalaya on CJSF ensured that I was familiar with at least some these exceptional Van musicians, Jesse Zubot in particular, and other projects on his label, Drip Audio.
At the Biltmore for their July 2nd show, as part of the Jazz Fest, the guys were joined by renowned Swedish saxophone player Mats Gustafsson.
Like other events, the Jazz Fest always makes for a great litmus test for my friends' musical tastes. I always try to take a friend to a show that they would likely not see if it wasn't for my suggestion and cajoling; makes me feel all powerful in my advising, and less of a nerd for rocking out to violin on a dance-floor by myself. Fond of Tigers proved to be a bull's-eye in this regard. My friend's a bass player, so I knew where his eyes were locked for the bulk of the show.
It was the first show in a long time that I spent mostly sitting (on a large block, under a speaker, feet plopped onto the stage). The layout at the Biltmore makes a setting as intimate as you want it to be. The audience can be nestled in cozy booths, nursing a drink and taking in the music; or dancers can be inches away from the musicians, feeling the bass through the soles of their shoes. This 'closeness' makes the cacophonous-to-perfection sound of Fond of Tigers an especially all-enveloping experience.
The nature of the show was ebbs and flows. A piece would begin, sometimes with Lyons' impassioned guitar, other times with a drum-off (I maintain that two drummers is a near-genius choice). Then another musician would step in, music building. Sometimes a crescendo would be reached, and other times a piece would fade without warning. It was jazz-and-a-multitude-of-other-genres bliss that keeps you on your toes, but never feels inorganic.
The extra notch in the show was the teaming up of FoT and Gustafsson, an incredible musician who creates a deep-in-your-bones sound and a visceral performance. Not very familiar with his background, I had to double-check that he was a guest musician, because the vibe and interaction between him and the band was so cohesive.
It's fruitless judging a show like this piece-by-piece, as you're rarely certain where an improvised trumpet lick came in, or when a violin solo spontaneously becomes a violin-and-trumpet jam. This feel does translate to FoT's records, but to see a piece progress live is a whole 'nother world.
If I have a half-baked complaint it's that an average-length set felt excruciatingly short, probably due to the nature of pieces blending together into one cohesive bout of music. There was rarely any stop-and-starting. So as my friend dragged me out of the Biltmore (he loved the show, but I was lingering), I kept flinging longing glances at the sax on stage, hoping it'll get magically back into the hands of Gustafsson, and another piece would begin.
Info for what's coming up for Fond of Tigers can be seen at fondoftigers.com and www.dripaudio.com.
Posted on:

12 April 2016

By:

Administrator

Author: Kate Lerman