Do Make Say Think, The Happiness Project, Years
On a warm February evening, Jesse Wentzloff took his place at the Biltmore Caberet to watch the Tornoto five-piece Do Make Say Think perform tracks from their latest album Other Truths, this is what he says...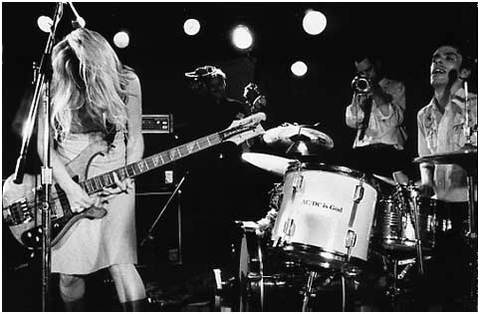 "I know there's a dance party afterwards, but we're here to play rock music."
Those were the first of a very few words spoken by any of the members of Do Make Say Think, Saturday February 6th at the Biltmore Cabaret.  For the next hour and a quarter, the Toronto-based eight-piece rarely stopped playing their brand of bombastic, apocalyptic instrumental rock.  They worked  through a phenomenal setlist that included three of the four tracks form their newest release Other Truths as well as a few old favourites.  The band displayed their considerable instrumental prowess and knack for making each song - even those that were well in excess of ten minutes in length - engaging.
The band and their performance can be described in a fashion that is eerily similar to band member Charles Spearin's moustache.  At first glance, or listen, both seem chaotic, untamed and wild. The band's penchant for 'kitchen sink' instrumentation - anything and everything goes - means that there are often over five completely different melodies and counter-melodies being played at any given time, not to mention the frenetic drumming. Upon further examination though, it becomes clear that both Mr. Spearin's moustache and Do Make Say Think's compositions require a great deal of grooming, maintenance, practice and discipline. While the wall of noise produced by the band's diverse instrumentation is intimidating at first, it soon becomes easy - and thrilling - to pick out the individual parts and get caught up in the often-anthemia melodies.
The show did have a few negative aspects - one drunken fan repeatedly doing his best to vocalize his love for the band at the most inopportune of times, and the stiflingly hot atmosphere.  However, these are the pitfalls of having your show at a basement-bar with ten-foot ceilings.  The band can hardly be faulted for the venue or their fans' behaviour. Do Make Say Think certainly made good on their half of the bargain, delivering a spectacular set of ambient rock that left everyone in the venue satisfied, but still chanting for more.
Posted on:

12 April 2016

By:

Administrator

Author: Jesse Wentzloff