DEATH FROM ABOVE 1979
"You guys are much quieter than last night," Matt McLaren, the guitarist/vocalist for Toronto based group Biblical chided the Monday crowd. "You're about to see your favourite band, for fuck's sake."
Death From Above 1979 was roughly an hour away from taking the stage at The Commodore in Vancouver, and droves of hip twenty something's piled into the elegant venue to listen to what was, for many, an old high school band for what was, for some, the second of two consecutive nights.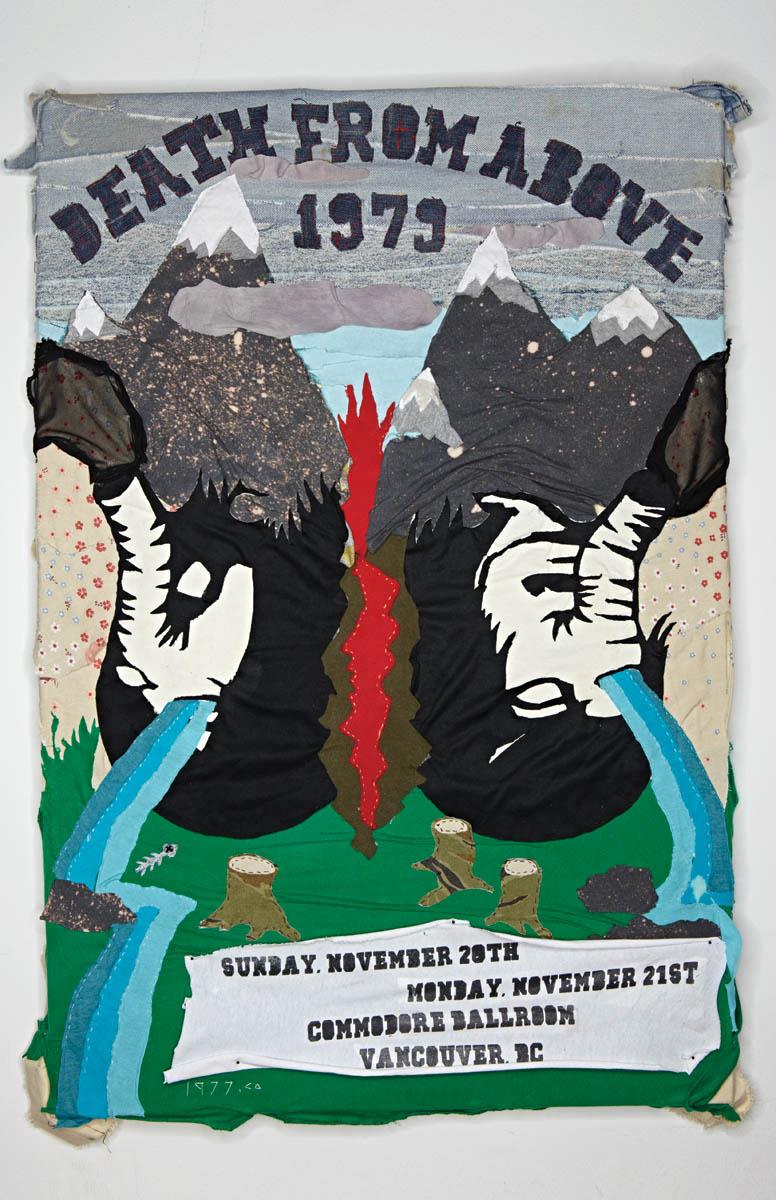 Death From Above 1979, or DFA, consists of Sebastian Grainger on drums and MSTRKFT's Jesse Keeler on bass. Both men share vocals, and came together in the early 2000's to put together only one full length studio album, a remix album, and a handful of EP's before officially breaking up in 2006. Still, their short-lived career turned many young adults on to their noisy punk rock characterized by Keeler's frantic bass lines, Grainger's drum rolls, and enough synth to spawn a number of similar sounding groups.
Maybe it was the apparent dissolution of Grainger's short-lived Bad Tits project or some sort of mutual reconciliation, but something caused the band to announc a reunion earlier this year. Their fans, eager to hear the soundtrack of their first gropes at parties in remotely located basements, seemed unimpressed by opening group Biblical, but the air was thick with anticipation as Grainger and Keller stormed the stage at quarter to eleven.
Grainger ravaged the drum set in his signature sweat-drenched all-white outfit as Keeler did his thing, and the sold-out crowd pushed towards the stage in waves. Within seconds, concertgoers were stepping on glass and throwing elbows in a frenzied mosh pit that fed off of the violent, sex fuelled songs. After a particularly throttling rendition of Go Home, Get Down Grainger teased the crowd with his tongue in cheek stage banter.
"I know y'all came to see Hawksley Workman," he referenced the noted Canadian singer/songwriter, known for his powerful and melodic ballads, "but he didn't get his visa, so your stuck with us." He chuckled as he seemed to remember that Hawksley is a fellow Toronto based artist, but before the moshers could catch their collective breath DFA barreled onwards in their set with Little Girl. The Commodore was sheer chaos during the outro, and I'm fairly sure I saw a beer bottle be thrown over my head.
"That outro is like our thermometer…our gauge. It's how we know we're older than we used to be!" Grainger reminisced briefly over the duo's early gigs in Vancouver, once again seeming to toy with the crowd as he claimed to remember nearly everyone in the front row from about a decade ago.
One Two Three Pull Out
I was surprised that the physicality of the mosh pit was limited to slamming and crowd surfing, given the blatantly sexual energy of Pull Out, My Love is Shared, and Romantic Rights. DFA prolongs  their set with deliciously distorted bass lines and prolonged drum solos, and return to the stage for a wicked encore of You're Lovely (But You've Got Problems) and Losing Friends. As sweaty, tired fans emptied onto Granville Street, quite a few were noting the suspicious lack of a particularly sensuous favourite song, Sexy Results. Over all, Death From Above 1979's show packed as hard of a punch as their one album. As Grainger himself acknowledged, this was the band's last North American date of 2011, and the whole night had an air of one last, violent hoorah. 
(Photo: Poster given to concert goers)
Posted on:

12 April 2016

By:

Administrator

Author: Amanda Mcculley