Cool and Swinging with Richie Cole
The Orpheum, if you haven't been, has to be one of the most beautiful venues in Vancouver. Built in 1927 (and later restored in 1977), the theatre and its waiting areas are adorned with gold leaf, intricate wood work, cascading chandeliers—all evocative of an era long gone. Can't think of a better place to take in our night of big band and jazz with alto sax player Richie Cole, the quintet Five By Design, and the VSO than here.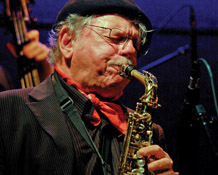 Let's introduce our players.
If you don't know who Richie Cole is, well, you're not the only one. I hadn't heard of him before last night. That's not to say, you haven't. From Trenton, New Jersey, Cole picked up the alto sax at the young age of ten. After high school he contemplated a career in the military but by chance entered a contest in Downbeat Magazine and was awarded a full scholarship to the Berklee School of Music (now Berklee College of Music) in Boston. The rest, well, is history. Over the years, he was performed across the globe and with the likes of Eddie Jefferson, the Manhattan Transfer, Bobby Enriquez, Freddie Hubbard, and Art Pepper. He has recorded over 50 albums, taught graduate level courses, received countless awards for his contribution to music…To say he's lived a full life is putting it simply.
Now enter Five By Design. Made up of Lorie Carpenter-Niska, Sheridan Zuther, Kurt Niska, Michael Swedberg, and Terrence Niska, the Minnesota-based group is known for their harmonies and orchestral accompaniments. And lastly, the VSO. Conducted by Montréal's Pierre Simard, this ensemble of talented musicians is bound to amaze.
We take our seats. Row 16 orchestra. A good fifteen minutes later, the stage is backlit in pinks and purples and the show begins. Cool and Swingin' With Richie Cole cleverly unfolds. Forget the standard set of first number, second number, third number, fourth. Rather the evening is presented as if we were in studio for a live radio broadcast. Alton Accola, sits off to the side, and plays our host, while the VSO, our quintet and Cole
delight the audience with music from the past. We're talking Night and Day, What a Wonderful World, Come Fly With Me, not to mention a tribute to Duke Ellington and big band classics.
At first I find Five By Design a little cheesy. Maybe it's the swaying side to side as they sing and smile—might I add, all at once. As the night progresses, however, I'll admit I was a little hasty to judge. As we play out our live radio show, the group animates our commercial breaks with scripts in hand and ordinary household props. I simply love it. It brings humour to what could have been a boring night of musical presentations. The advert for dog food is perfectly executed. And might I add, their outfits,beautiful. The vibrant jewel tones, paired with muted greens and browns and the glitz and glam of old Hollywood, popped on stage.
The VSO is wonderful. The same goes for Simard. I catch myself staring at him as he waves his baton and flutters about his podium like a skilled dancer. Effortless. All in a day's work with such talented musicians by your side.
Cole, is well, a saxophonist with style. He belts out the classics, and a few of his original scores, with such ease. There are times I fear his lungs will explode from the gasps of air needed to fill his instrument, but he doesn't disappoint. Rather he deviates from the norm and silences the room with a rendition of Come With Me and We'll Be in a World of Pure Imagination by Anthony Newley from the film Willy Wonka & the Chocolate Factory. My heart sinks with utter joy. His solo is breathtaking, and once the VSO kicks in…divine. It's quite unbelievable how music can not only transport you to a time long ago but take you to a world of dreams. In fact, the night is filled with moments of fantasy and soundtracks to my own life. Ellington's It Ain't Mean a Thing and Benny Goodman's Sing, Sing, Sing. Every Sunday, my father would fill the house with their songs—sporadic snares, bellowing trumpets and sultry saxophones. I can't help but think about today's music and how far we've come…
Had it not been for the live radio format, I think the night would have been the same old, same old. But Accola was superb. He gave us back story on our guests and filled the night with light commentary and our funny adverts. Not to mention, all the musicians, the lightning (with the exception of one bad spotlight), the acoustics and the Orpheum as the backdrop. They just don't build them like they used to.
While music has taken its course since the days of Ella Fitzgerald and the likes of Louis Armstrong, it's refreshing to see that some tunes are forever timeless. An absolutely captivating evening!
(Photo: Richie Cole/ courtesy of the VSO website)
Posted on:

12 April 2016

By:

Administrator

Author: Anastasia Koutalianos