Chor Leoni's Rejoice
Just before Christmas I saw the Chor Leoni Men's Choir perform Rejoice—a night filled with holiday classics, hushed cantatas, and liturgical music, accompanied by the quintet, A Touch of Brass.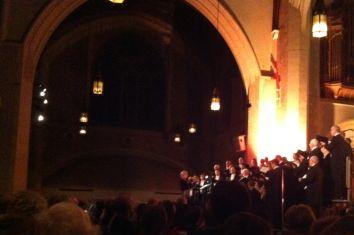 Now I don't know if I've ever been to a choral performance before, especially not in such a majestic venue. St. Andrews-Wesley United Church, on the corner of Nelson and Burrard Street, certainly spices the evening with a touch of umph! Its hanging gothic-inspired lanterns cast a dim and yet, romantic light. Its rafters, lined with timber, are reminiscent of a ship's wooden ribs. Perfect setting for some musical time traveling.
I find a pew in the south transept of the crossing. I take my coat off, nestle my purse between me and the woman to my right. My eyes scan the room. Who's here? I wonder if this is a family tradition for some? of if the church is filled with performers' relatives? Whatever it may be, it's a full house. So full that I'm asked to move over so a couple can sit to my left.
Diane Loomer (Artistic Director/Conductor) takes the stage (just in front of the altar) and conducts her choir, as they sing holiday numbers, religious pieces and ones in English, German, Latin and French. I close my eyes and listen. The men's voices are beautiful. Angelic and light, as they float and bounce about. Cantique de Noël is perfection. Soloist Javier Martin-Rodriguez wipes the day's worries away. The organ in Christmas Cantata is a little harsh. I think of Armageddon and hope 2012 isn't the year for all to end. The melody softens as A Touch of Bass joins in. Hark! is simply beautiful. We are asked to sing along. I stand up and follow the lyrics, which are conveniently typed out in the programme. Lux Aurumgne and In the Bleak Midwinter bring calm and peace back into the space, sung almost at a whisper. I feel lullabied and relaxed.
A Touch of Brass takes center stage with Jingle Bells (arrangement by Fred Stride). A New Orleans jazz-inspired rendition of a classic. I love it. It adds some sparkle to an already beautiful evening of melody, tranquility and Christmas spirit.
The programme ends with Yuletide Fires and Stille Nacht. The choir comes back for an encore and belts out We Wish You a Merry Christmas. Smooth like butter. Almost like a film soundtrack.
Would I have changed anything about the programme? No. I appreciated the musical variety, pulling from liturgy and various cultures. However, I would have liked to see an English translation for lyrics in other languages. Always nice to follow the sentiment of a song. Would I have changed anything about the mood of the concert? Certainly the lighting. It was awful. Plain and simple. From bright to dim to even brighter. The contrast was painful to the eyes. Less up and down would have suited me fine. Did it take away from the evening's performance? No. Musical time traveling is uninterrupted by Christmas glare.
If the New Year has you wanting to try out new things or to expand your musical repertoire, I suggest you check out Chor Leoni. For more information on the choir's 2012 season, click here.
Photo: Chor Leoni Men's Choir at St. Andrews-Wesley United Church.
Posted on:

12 April 2016

By:

Administrator

Author: Anastasia Koutalianos