Cherry Glazerr at the Cobalt Hotel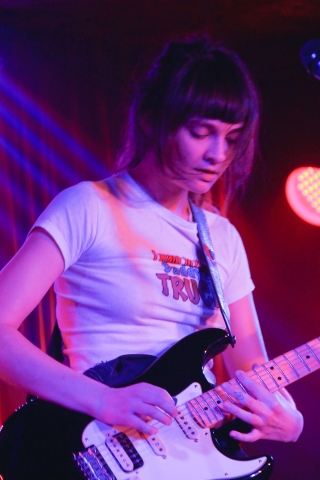 Cherry Glazerr has quickly become a staple in the garage/punk scene, so it is no surprise that their February 7th show at the Cobalt Hotel drew a sold out crowd. The young band is currently on tour to support their latest album Apocalypstick , which was released in January of this year. While the band seems to have left behind some of their goofiness (as found in songs like "Grilled Cheese Monster") for a more grown up sound, the album demonstrates that they are still the same exciting, grungy and badass Cherry Glazerr that the fans love so much.
Led by 19 year old Clementine Creevy, Cherry Glazerr took the stage, which was decorated in glittery vaginas to proclaim the good word of female empowerment to all. They played an extensive set which included old favorites such as "Had Ten Dollaz" and "Trick or Treat Dancefloor," as well as songs from Apocalipstick like ballad "Nuclear Bomb" and garagey "Nurse Ratchet." Although the  full album was released less than a month from the perfomance, the fans sang along to nearly every song.
The band seemed to be having just as much fun as their rambunctious crowd, and did an awesome job of connecting with the audience in between songs. At one point with both her arms in the air, Creevy yelled to her fans, "the future is female!" Naturally, this was answered with cheers and applause. 
The show was great from start to finish, both the band and the crowd were full of energy and enthusiasm. That being said, my favorite part of the entire show was the encore. After exiting the stage, Cherry Glazerr returned for one final song: a cover of Nirvana's "Territorial Pissings." The band's sound was a perfect fit for the song and hearing a female cover of it was awesome. To finish off a perfect show, Creevy thanked the fans and jumped into the crowd.
Posted on:

20 March 2017

By:

arts and entert...