Certain Breeds/Terror Bird/Digits
Alternative to the now defunct Cobalt, Funky Winkerbeans has been catering to bands with a raw punk edge, and those with a brooding darkwave vibe. Scott White arrived, early to May 8th Certain Breeds, Terror Bird, and Digits and had the opportunity to converse with a couple of the members of local band Certain Breeds.   
When I first arrived, attendance numbers were limited, and this gave me the opportunity to hear from the drummer of Certain Breeds, Corey Woolger and synth and bass player David Reynolds about their upcoming split 7" with Terror Bird, released on record label Global Symphonic. The LP was supposed to be pressed in order to have copies ready for distribution at this gig, but water flooding problems at label offices in Nashville TN prevented this.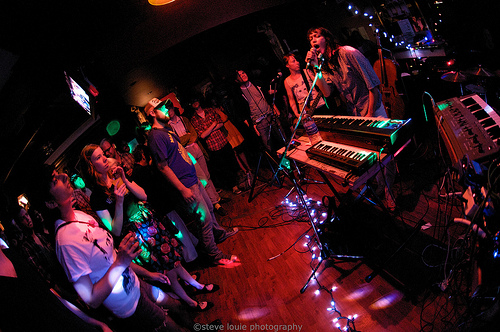 Patrons started to flow in as Jen Riego (vocals/keys) and Leanne Chapman (cello/bass/vocals) continued to gear up on stage. The band started their set with a track called "Tube Science" as people tentatively made their way to the floor to be captured by the sound. An initial small crowd of about 15 people progressively built up. Most kept their hands in their pockets, appearing subdued but content.
Only 2 songs located on their myspace page made the live cut: "2am" and "Walk in Sleep". Others included: "Teto", "Family", "It", and "Street Dogs". Certain Breeds has noticeably gothic undertones; their key influences such as Crass, Siouxsie and the Banshees and Bauhaus are apparent. Other track titles in their catalogue include: "Cold Room" "In the Dark" and "Processing Plant". The band is set to tour the US in July and will visit major cities in Canada in August.
Terror Bird, a local duo consisting of Nikki Hebert on vocals and synths and Jer Haywood on drums, had just returned from playing Pat's Pub with Nikki's other band Modern Creatures, and began their set at Funky's with a few sputter steps. The mishaps would soon be overtaken however by a locked-in unit which I found interesting considering that Haywood seemed to completely avoid his floor tom. A subtle Xmal Deutschland influence could be heard, but the impact of Joy Division was more apparent.  
According to their myspace page, they cover notable songs such as The Rolling Stones' "Play with Fire", Sonic Youth's "Kissability" and Brian Eno's "Driving Me Backwards". Original new wave cuts in their catalogue include: "Last Moment" "Parties are for Fools" "White Lights", "I Don't Believe in You","Shame Is On Your Side", "Shadows in the Hall" and "We Were Monsters" The band is touring throughout Europe starting this June.
The night ended with a solo electronic/synth-pop DJ from Toronto, namely "Digits" who put on an after performance set that sounded a lot like Orchestral Manoeuvres in the Dark. Song titles like "Nonstop", "Monster", "Sarah" and "You're Going to Age" are in his performance library.
Further details can be found respectively at: 
myspace.com/certainbreeds, 
myspace.com/xterrorbirdx
myspace.com/digits1010
~Scott White
*Photo Credit: Steve Louie Photography
Posted on:

12 April 2016

By:

Administrator

Author: Scott White