2017 Vancouver Folk Fest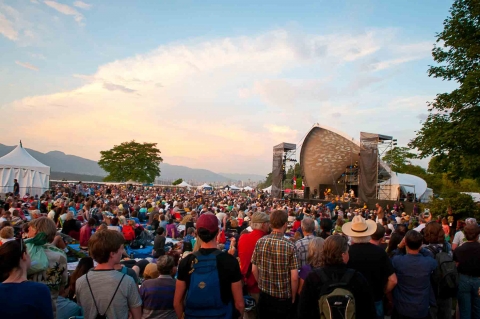 The first act I saw was Tomato Tomato. This husband and wife duo can really hold a show. With Lisa on the washboard and John Mclaggan with his guitar, it's hard to decide which one I liked better. When this two-piece band got together, their sound filled the main stage just as well as any other. They effortlessly kept in harmony. Appreciated by attentive sitters and active dancers, Tomato Tomato navigated their set well and maintained a positive, reactive crowd.
Up next was ILAM, playing their first-ever show in Canada. Admitting to not speaking English well, this French speaking band is described as Cool Afro Blues and Modern Africa Style. I would have a hard time putting a label on the band due to their diverse musical range. Their 50-minute set varied from chill blues, to reggae, to jammin' to wild and unpredictable. The crescendo of energy was apparent when the crowd was left standing as ILAM left the stage. The designated areas for dancing became indistinguishable once their song "Money," off their newest work, Hope, was performed. I highly recommend checking the album out. The synergy between ILAM and the crowd was well orchestrated. I hope they make a second trip soon.
The final act I caught was True Blues: Corey Harris & Alvin Youngblood Hart. From Corey Harris' introduction, him and Alvin Youngblood Hart have known each other for 21 years. Alvin Youngblood Hart performed first with the slickest fingers on a guitar I've ever seen live. If you couldn't tell from his presence, you knew from his skills he was the last of a dying breed of true blues artists. His heavy, raw, raspy singing blew me away at his first note. His voice was similar to his guitar playing; dirty, soulful, and never missed a note. Corey Harris performed second and brought a more light, crisp, country blues sound. A different flavour but still blues at its finest. His most memorable song was the one inspired by Edward Snowden and internet ads tracking Corey's online sock shopping. Conscious lyrics to say the least. Both played the guitar like it was an extension of their body. Alvin and Corey playing together to end the set was analogous to a nice blended whiskey; smooth, strong, and hit to the core.
Image courtesy Kitsilano.ca.
Posted on:

2 October 2017

By:

arts and entert...