Weirdos at the Cinematheque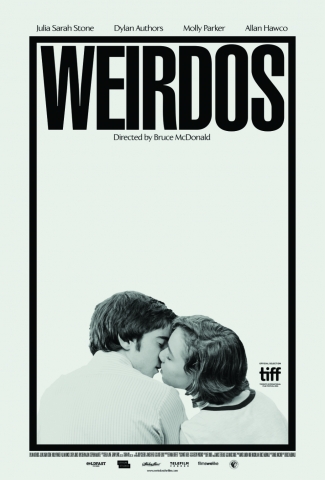 It was my first time coming to Cinematheque movie theatre, and upon arrival I immediately wondered why I had yet to discover it. Cozy, warm cinema in the best traditions of Woody Allen's Purple Rose of Cairo. After watching a movie here you'd want to come again and again. People coming to Cinematheque certainly differ from the regular Cineplex public. You can tell that these are real movie buffs! 
Getting comfortable in my large chair, I got ready to see what this Canadian drama had to offer to me. After all, it got nominated for the Best Motion Picture Canadian Screen Award.
Director Bruce McDonald takes a viewer on a nostalgic Nova Scotia road-trip, featuring 70s pop music soundtracks and teenagers, struggling to find their own way into adulthood.
Telling a story of a teenage boy named Kit, the picture explores his complicated relationship with the father, whom Kit's doesn't find as cool as the rest of his peers for the reason he doesn't himself know yet, he decides to run away to live with his emotionally unstable mother. Accompanied by his girlfriend Alice, who already suspects her boyfriend's queerness, and by his imaginary spirit animal, Andy Warhol, who occasionally asks him questions, Kit tries to escape. 
McDonald alludes to Kit's sexuality subtle details that add a zest to the picture. For example, in the beginning of the movie, a poster of Elton John is hanging in Kit's room, later on Kit says that he wants to play the piano like him. The frequent appearance of Andy Warhol (or his spiritual likeness, rather) and Kit's admiration of him also suggests his homosexuality. 
Warhol's appearance also provides guidence througout the story.  Though an insignificant character at the fist look, he helps Kit embrace his quirkiness, which enables him to discover that everyone around him has their own peculiarities, which simply make the people around beautiful in their own way.
What makes the picture enjoyable is not only a familiar story, but the new way it is presented and performed. Everyone who was once fifteen knows how strange and unfriendly the world around you can be. Dylan Authors (Kit) and Julia Sarah Stone (Alice) give great performances, portraying internal complexities, thoughts and actions of the characters, and how they react to the challenging environment around them, also, the prevalence of close-up shots lets the viewers spot every little detail of acting, allowing them to sympathize with the characters' hardships.  
Seeing the world through her motion and photo camera lens, Alice invites the viewers to the world of a teenage girl who is in love, and who is desperately trying to reject the realities of her relationship with Kit. She craves a happily-ever-after, even though her clear vision of what is going on won't let her do it. Discovering what Kit actually feels and what can happen if he stayed with his mother, Alice guides, and even after getting rejected and labeled as «best friend», doesn't abandon Kit. 
Drawing attention to Molly Parker (the mother) in particular, it is essential to mention how complicated her character is, and how brilliantly she performed: crying, laughing, dancing - her acting became a key element in the emotional appeal to the audience. Charming, but certainly out of this world, fragile, the mother, being Kit's only hope, shatters. 
Allan Hawco, who's playing Kit's father is a very appealing character. Not knowing about his son being gay, he insults Kit's french teacher with a homophobic slur, who also happens to be gay. It serves as a catalyst for Kit to start his trip towards understanding who he really is.
It might be odd to take a look at Kit's character the last, but even being the main character, he is so confused about not only his relationship with the father and Alice, but most importantly about himself: who he is, what does he feel and what should he do, it simply doesn't leave a chance for the viewer to look deeply into the character. However, pretty soon we, the audience, come to understand the road trip is not just a trip, but an escape, by the end of which Kit will embrace his true self.
Posted on:

26 June 2017

By:

arts and entert...

Author: Erika Assabayeva