VIFF: Mommy
Seemingly with a vendetta to be the most heart-wrenching film you've ever seen, Xavier Dolan's fifth feature film Mommy (2014) plays out like the most twisted Freudian melodrama, whilst still maintaining a tone of sincerity, hope, and sweet nostalgia.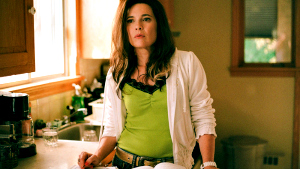 The film revolves around a single mother named Diane (Anne Dorval) with a recently deceased husband, whose life circulates around the spastic, manic, and severe acts of aggression enacted by her hyperactive son Steve (Antoine-Olivier Pion), who constantly tests her patience, understanding, and fortitude. Incidentally, both can be seen as opposed to society, and to an unkind eye, degenerate. Considering their drinking and smoking and cussing together, and the general bad behaviour they participate in. Yet they are ultimately seen with a beloved eye, as they are in constant opposition to the overbearing institutions that infringe upon their happiness.
From the very beginning of the film, when mother and son bust out of a boarding school Steve has been expelled from, we are taken on a dynamic exploration of emotions most extreme, varying from euphoric giddiness to depressive sadness of sinking depths. These bouts are experienced by both characters in the film, and are usually caused by Steve's unpredictable actions, as he embodies the role of troubled child under the doting eyes of his mother.
The film also takes on political critique, as the plot involves a fictive bill, imagined to be passed in Quebec in 2015, which allows parents, if their children could possibly cause direct harm to themselves or others, to be dropped off in the care of government run hospitals, specifically designed for such a situation. Leaving Diane, as her stresses grow greater, with intense psychological questions about motherhood, responsibility, love, guardianship, and hope, which are represented in this film in such a way that the acting, scene direction, cinematography, and even sound and editing feel consummately professional. These traits convey the deep-seated, raw emotion that the film's comedy and tragedy is meant to stir. Considering it would leave most any audience in awe of both the endearing, and devastating aspects of human nature.  
Posted on:

11 March 2016

By:

Administrator