Vancouver International Film Festival Reviews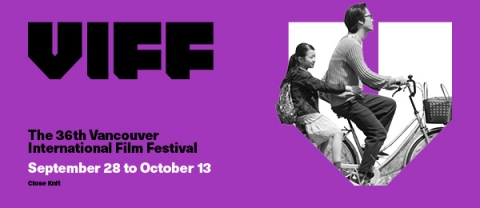 From September 28 - October 13, 2017, the Vancouver international Film Festival hit screens throughout the city. Some of CJSF's film buffs caught some of the festival flicks and delivered their takes on some highlights of the festival. 
The Crescent by Scott Wood 
The Crescent is a psychological horror and second full length feature from director Seth A. Smith – who you might know from the Halifax indie band Dog Day. The film centers around a young mother and her toddler son who decide to retreat to the family's ancestral home to grieve the death of her husband (and the father of her child). The young mother is also an artist who specializes in paint marbling and the film uses this artwork to great trippy effect. 
As the mother and her son set up house in this abandoned and foreboding house, the relentless waves pound the coastline outside and they soon become aware that this dwelling on the edge of the continent may have some menacing and supernatural qualities. 
It was great to see this film at VIFF because one of the perks was that the director was in attendance. And yes I got to meet the toddler star of the film, Woodrow Graves. He was a bit grumpy because he was up after his bedtime and he's also the son of the director and the producer of the film. 
During the Q&A Smith told the audience that he wanted to tell a horror film from the perspective of a toddler. This is certainly an interesting goal and it hasn't really been done in horror. And Smith got some really great work from his son. The film is not entirely successful meeting this goal, but given that Smith told us that he had two weeks at his location and a handful of actors, he's created a solid psychedelic horror and I'm interested to see his next work. 
Dead Shack by Scott Wood
Dead Shack is the debut feature from Vancouver-based director Peter Ricq. You may know Peter from his music projects, Humans and Gang Signs or from his TV art direction work. He's already directed several music videos and Dead Shack is his next big and exciting leap. 
Dead Shack starts when three teenagers (a brother, sister, and their shy pal) are taken on a surprise getaway to a remote log cabin by their ne'er-do-well Dad and his new girlfriend. Things take a sinister turn when this bickering family runs into a mysterious armour-wearing woman (Lauren Holly--who was on the CBS TV series NCIS for a while) who likes to trick unsuspecting people back to her cabin and then feed them to her zombie family.  
I like how the movie doesn't try to explain everything. There is no need to explain how the woman's family became zombies. The movie just sticks to the fun stuff. The three teenage characters are fun and you can't help but to love the kids' loser Dad (played by Donavon Stinson). I would have liked to see more hilarious deaths to match the fun banter in the film. Sadly no one dies that you aren't expecting to die – and unexpected deaths are a solid weapon in an indie horror maker's toolbelt.
Other than these minor story quibbles, Dead Shack is a great debut from one of the hardest working artists in Vancouver. It's great to see a local guy make it. 
Oh yeah and Peter's music project Humans do a nice soundtrack for the film. 
A Skin So Soft (Ta peau si lisse) by Scott Wood
A Skin So Soft is a documentary that follows the lives of a diverse set of competitive bodybuilders--and one wrestler.  
The most interesting choice filmmaker Denis Côté makes is the decision not to interview his subjects. Instead he lets us see each of these men's stories unfold as we watch scenes from their everyday lives. 
It's easy to make assumptions about bodybuilders and this film lets us slowly get to know these men as we see their day. There is one hilarious sequence that acknowledges the inherent homo-eroticism in male bodybuilding. One of our protagonists, a straight Muslim man, is doing his daily workout while another man at his gym also does his own workout but he also clearly enjoying watching the other workout. Our protagonist continues doing his work without even noticing the extra attentions. I think a sequence like this is more powerful than directly questioning these men--all of whom are straight--about the issue. 
The only place this film falters is the end. For some reason Côté decides to gather all these men together and take them for a group trip to a log cabin. They talk around a campfire, and the bodybuilders practice a posedown in a field, but for the most part these men nap in hammocks by themselves and there is no reason all these men's lives needed to intersect for the film. 
An odd choice to end a meditative film.
I will note that VIFF describes this film as "a docu-fictional portrait of semi-professional body builders." Reading this description after the fact made me wonder how many of these private life scenes were manufactured.  
At the End of the Tunnel (Al final del tunel) by Scott Wood
At the End of the Tunnel starts when a paraplegic and misanthropic technician rents a room in his Buenos Aires house to a stripper and her daughter – so he can keep his home. Then while working in his basement on night, he hears voices and then discovers that a group of criminals are burrowing under his house to break into a nearby bank vault. 
He then uses his technical background to spy on the group as the stripper and his daughter soften the hermit's heart. When it becomes clear that there are secrets connecting all the new people in the man's life, he is forced to take drastic measures to avoid the criminals and Buenos Aires corruption. 
It was nice to see a disabled man leading a crime thriller. I enjoyed all the twists and turns in the plot. Also the criminal gang were more diverse than most American crime films--which was also nice to see. I would have liked for the stripper character to have a bit more agency. This film has been called Argentina's answer to Pulp Fiction and it was a fun romp with engaging characters. 
The Other Side of Hope by Chris Spangenberg
If moviegoers have heard of the Finnish director Aki Kaurismaki, they're usually more acquainted with The Match Factory Girl, or even his more recent film Le Havre, which follows more in the footsteps of his latest feature that screened at the Vancouver International Film Festival. Yet when my good friend expressed her interest in watching The Other Side of Hope by the kooky Kaurismaki at VIFF, I remembered only watching his hilarious Leningrad Cowboys road movies, my only encounters with his filmography. 
These films seemed as far a cry from his latest feature taking as its subject the current refugee crisis in Europe. Or is it? While heartlessness and disheartenment pervade The Other Side of Hope, I found that beneath the dulled colours and the deadpan faces of the characters lies a poignant story with a heart that goes out to humanity, with all the light humour that we've come to expect from Kaurismaki.
It is a tale of two countries: Finland and Syria, with the criss-crossed journey of the Syrian refugee Khaled. The plot sees the lives of the conservative shirt salesman-turned-restaurateur, Wikstrom, and the ex-mechanic Khaled converge — but this doesn't happen until almost halfway into the film. Separately, we are shown their narratives preceding their fateful encounter. We follow Khaled from the onset of the film, as he finds his way into Finland from stowing away on a coal ship. His subsequent appeal for asylum, and temporary detainment in an asylum centre while officials judge his case, all defer his true goal: to find his sister, whom he lost when they got separated during a border closure. Wikstrom, the everyman extraordinaire, departs from a troubled relationship with his wife, and decides to leave his sales business as well by selling his whole stock of shirts. He bets these earnings in a long night of high-stakes poker and wins big — big enough to buy himself a furnished restaurant complete with three 'long-time' employees to boot. Which is exactly what Wikstrom does next. And this is where these separate lives intertwine into the common comedy of Wikstrom and Khaled, where the face of Finnish nonchalance meets the stoic Syrian visage: Khaled punches Wikstrom in the face after the latter finds Khaled squatting outside his restaurant, and Wikstrom knocks him out. Khaled is then given a job at the restaurant and looked after by the unflappable Wikstrom.
Sounds offbeat to you? Sure. But Kaurismaki finely balances the ofttimes comic personalities and happenings in the film with the tragic notes found not too far from our quotidian world. Catch a news account on TV reporting on a renewal of attacks in Syria shortly after we are told Khaled is denied asylum in Finland, or watch Khaled get attacked and nearly lit on fire by a group of nationalists. Within this tension, empathy is the foremost feeling that we have for the characters, equally for their challenges as their idiosyncratic mannerisms. At its core, The Other Side of Hope is a story of friendship and humane kindness.
The performances of Khaled (played by Sherwan Haji) and Wikstrom (wonderfully acted by Sakari Kuosmanen) are superb—but don't let me fool you in believing that the film is only about these two. This is a first-rate cast of characters, containing clowns as well as scoundrels, although you might be hard-pressed to find much variety or diversity in their facial expressions. A minimal vivacity and maximal nonchalance are the rule here. Yet, a genuine humanity blazes forth from those deadpan expressions, more than you might ever find from your standard Hollywood blockbuster. And when the hint of an expression other than stoicism does flash forth—like the corner of Wikstrom's mouth slightly hinting north at a smile when he wins the last round of poker—it hits all the more harder.
The humour in the film is sometimes subtle, periodically plainspoken, but always masterful. We find such digs at the restaurant industry, where a lunch item comprises of a can of tinned fish, opened for your eating leisure, and explained away as 'fusion food'. Wikstrom's initiatives to attract customers by revamping the restaurant into a faux-quintessential Japanese restaurant is particularly hilarious in Vancouver, a city awash with good sushi: in Wikstrom's world, when the tuna runs out, pickled herring (or some other fish) makes a good substitute with ice-cream sized scoops of wasabi. Add impassive Finnish waiters dressed in Japanese-style dresses and you get something of a very funny sight. 
The comedy, however, is not only visual. The dialogue in the film is at times simply hilarious. Khaled, after being stowed away in the washroom with a dog to hide from the health inspectors, quips to the head waiter that in the meantime he had taught the dog Arabic and converted him to Islam. You can't go amiss with such lines. A Kaurismaki film—at least the ones I've seen—typically integrate music into the film and I was not let down. Guitarists and groups make regular appearances to rock out and sing about home and death. I was only disappointed that it was not the Leningrad Cowboys who came to perform.
Between the impassive wisecracks and the cheerless reminders of our political reality, there are touching moments in The Other Side of Hope, such as when Khaled is asked to play the oud on a lonesome evening in the refugee centre. The faraway Eastern chords floated through the darkened room in a foreign country, the feeling of home flooding back to the men present. And there is one other moment — merry as well as moving — that touched me, a piece of advice offered in the film that Kaurismaki himself didn't follow. Khaled's friend, once-refugee accepted as a migrant, tells Khaled to 'try to smile... they send the melancholics back first'. Aki Kaurismaki's film at first sight might resemble a fairground of deeply depressed melancholics in their prime—but believe me, there is more than enough heart to cheer us up in these strange times. 
Posted on:

27 November 2017

By:

arts and entert...

Author: Arts and Entertainment Department